Full name:
Matsuyuma,Haruka
Nickname(s):
Haru-Chan, Haruka-Sama(( earned later)),Matsuyuma-San
Gender:
Female
Race:(demon,half-demon, tennyo, Human, Est.)
Half-Demon
alliance: (neutral, good, evil, Bystander)
good/neutral
Age:
17
Birth-date:
((whatever day inuyasha was born))
Sexuality:
Bisexual
Relationship Status:
None
Love Interest/Spouse:
(Koga) when we have one available.
Nationality:
Japanese
Village or town of birth(modern era or feudal era):
Fedual Era
Currently lives:
Modern era Tokyo
Smoker?:
yes
Drinker?:
Only on occasions
Drug User?:
no
Demon: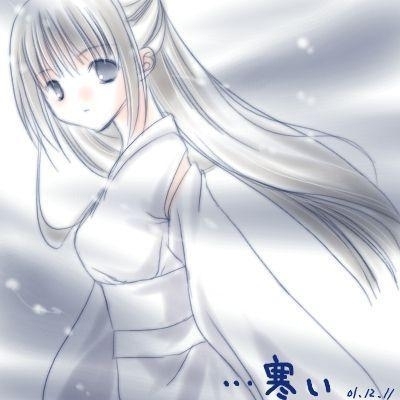 Human: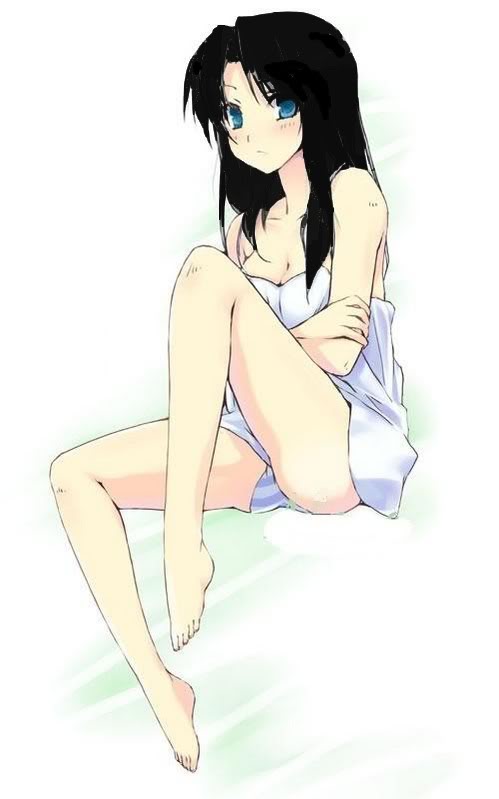 Height:
5'11
Weight:
190(mostly muscle)
Figure/build:
Slender Athletic
Hairstyle and color:
Human:black and worn either long with a half ponytail,or a messy bun in gym.(hair length is to the back of her calves)
Demon:Silver and Worn the same long or as most the time calls for worn in a High pony tail tied with a blue ribbon sash.
Eye color:
Human:Blue
Demon: Grey-violet
Skin/fur color:
Ivory tan skin
Tattoos:
"Love,Friendship,Wisdom,Courage...Together the four form the soul of a living being to know what the being is lacking is to know whether they are friend or foe..." is on her back in Japanese characters(of course)
Scars:
One right between her shoulder from a arrow being shot at her in gym class when she was 10. The doctor still can't figure out how she survived.
Piercings:
Two earrings on each ear.
Left ear: a clip-type on the tip of her ear. It is a silver cylinder with tiny rubies and yellow diamond fragments laced into an unearthly and beautiful design, Japanese characters for courage and friendship in the engravings. Earring on the cartilage part of her ear and a fairy holding a flame in her hand an inch below it, the  Japanese characters for wind is held up by the fairies wing, while dangling from the fairy fire dangles the  Japanese character for fire from a cute silver chain string.
Right ear: same clip. Sapphires and Jade is the only change; in addition,  Japanese character's for wisdom and love. Beneath that clip in an earring of a flower of rare design with a teardrop shape for a center. The Japanese character for earth on the leaf of the rare flower made of emerald while water  Japanese character dangles from the teardrop.
Preferred style of clothing:
Boyish clothes,comfortable and easy to move and breath in. Will wear girlish clothing when deemed neccessary by her.
Personality (and other stuff)
Likes:
+Fruits
+Flowers
+Honorable people
+Baths
+Training
+Ice cream
+Fun
+music
Dislikes:
+Red Meat
+Bullies
+Perverts
+Monks
+Heights
+Feminine Clothing
+Hospitals
+Clowns
Strengths:
+Aura readings
+Herb lore
+Martial Arts
+Sixth sense(can see and touch souls)
+Personal Understanding(she can tell whether a person is good or bad by how they act and look and stuff)
Weaknesses:
+Poison
+Really Bad Smells
Detailed Personality Description:
Haruka is a girl whom acts Timid and Happy all the time.She smiles,Pretends she doesn't understand anything your saying to her and looks like an all out airhead. But when she is faced with a fight she stands tall unflinchingly and has a cunning disposition.All and All she is only a fighter when she needs to be and uses her wits,wisdom and strength for the sake of others and to maybe protect herself when necessary.until she went to the feudal time and gained a temper and a warped personality in some ways...but deep down she is still a kind, and loving peacemaker and has a strong understanding of others.
Fears/phobias:
Being Alone,Dying lost in the dark,...Spiders>_>
Favorite color:
black, red, blue, green, silver, dark + dark= pink (._. you do the math),and white
Favorite food(s):
+Fried fish
+Oden
Favorite drink(s):
+Sake
+Green Tea
+Apple Juice
Favorite subjects: Art, literature, history, Foreign language classes (Speaks French, Spanish,
English, Japanese
, and Gaelic)
Least Favorite color:
Pink
Least Favorite food(s):
Beef
Least Favorite drink(s):
+Grape juice
+Lemonade
Hobbies:
Skateboarding, Video-games,  Reading, Artworks (painting, drawing est.)
Talents/skills:
Martial arts training,Singing, playing guitar/flute/piano/Koto/harp, Languages,Herb lore Aura readings/Premonitions.
Peaceful or aggressive:
Peaceful/Passive aggressive
Weapon of choice (if any):
Tsuki no Kaarsu(Moonlight's Curse):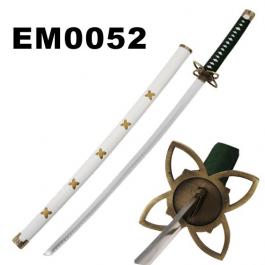 (Dragon fang of eternity):

Relationships
None
Parents:
Lady Izaio and InuTaisho
Siblings:
Inuyasha(twin,Older by 5-20 minutes) and Sesshomaru(eldest brother)
Children:
none
Other important relatives:
None
Partner:
none yet
Notable Friends:
none yet
Enemies:
Naraku
Pets:
None
Life story
Situation of the character's birth (where, when etc):
During the lunar eclipse when Inuyasha was born, Takemaru stabbed the mother as she held the infant to protect him. When the moon was once again whole though another baby had been born before Izaiyoi had taken her last breath. as the father saved his wife and son unaware of the little girl sleeping peacefully under the untouched curtain. As the fire got hotter and the battle started to get louder did she finally cry out alarming the Demon lord and shocking a now dying Takemaru. The father with the last of his strength cast a spell to dens the little girl far away out of time and space his soul following after her to guard the little girl out of fear for her life. where she ended up was the modern era her demon blood sealed by her father knowing she would have to be the one to rebuild Sounga to it's true form when she was ready.
Describe their childhood (newborn - age 10):
She was raised by orphanage's and foster parents none of them sticking because of some unknown fear. the claimed she was possessed but what it really was is her loving father protecting her from those who would cause her too much harm. The kids bullied and beat her and the teachers ignored her regardless of her talent in art and other things.
Teenage years (11 - 19):
When she was 12 she was finally adopted by a martial arts couple who were very kind and very rich. But after she turned 14 they passed away leaving her alone and everything they own. With their lessons pounded into her head she swore to no longer fight unless it was her last resort. When she turned 15 she fell through the sakura tree and met an injured wolf demon. She saved him and nursed him back to health despite his protesting about her being human and not needing her help.After he recovered he swore at her but then promised in his own stubbornness that he'll always be there as a friend and protect her as a reward for saving his life. the man, Kouga, got to know her better and they became lose after a year.Until his father found out and threw her back through the Blooming Sakura tree and burned it..forbidding koga from ever being with a human again as long as he lived. Kouga fearing the death of his friend if she came back agreed and our story picks up after two years for him and her and only after his love for her was transferred to kagome unknowing of his true feeling's for Haruka.
Adult years (20 on):
~~~~~~~~~extra~~~~~~~~~~
Power/ability's:[/color]
1. Enticing Ballad
2. K-9 (transformation powers)
3. Vanish( a natural Teleport; she was born with it)
4. Star Claws (works on vulnerable demons)
5. Petals dance
6. Lotus daggers
7. Tears of the Water Goddess
8. Star gun
9. Summer healing breeze
10. Dance of the phoenix rage
11. Silent glacier shards
12. Sakura storm
13. Oh! Guardian of the Demon's grave, reveal to me your eternal Curse on the wicked, so I may enforce it on the damned that stand before me. Open to me your truth, lend me your power and I shall give to you what is rightfully yours by natures law…oh*feels a singeing pain in arm wear red dragon tattoo appears*… "HELL DRAGON OF ABYSSAL GATE I SUMMON YOU!" (Sealment 1)
14. Water's solemn dance
15. Star rifle
16. Fires Fury
17. All mighty Gates of Heaven. Exotic home to the gods above, open the path to your sacred sanctuary, heal my allies and reveal thy path on which all souls lost must find and grant them forgiveness and entry. Upon them rain you're …MERCY OF HEAVEN *loud whisper* !(Sealment 2)
age 5: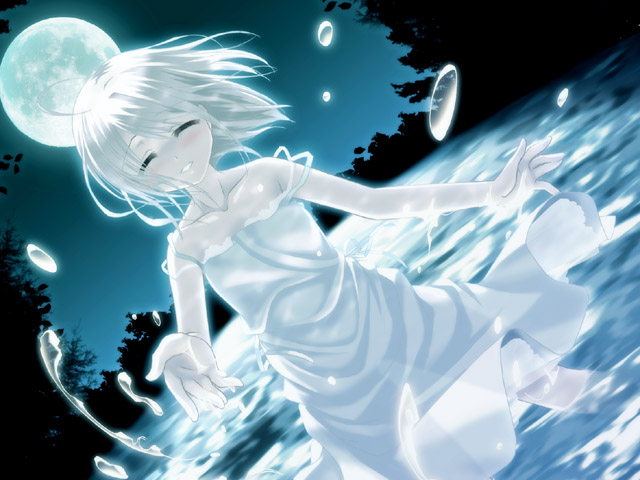 [i]
age 8:(imagine dog ears instead of human.: