Full name: Marianna Selene Hollens
Nickname(s): Ari
Secret Identity: The Witch
Gender: Female
Hero or Inmate: Hero
Age: 20
Birth-date: December 24th
Nationality: American
Town of Birth: Kaktovik, Alaska
Currently lives: Gotham City
Smoker?: Yes
Drinker?: Sometimes
Drug User?: NEVER
Appearance
Height:5'6''
Figure/build: Slender Atheltic
Hairstyle and color: Mid length white hair
Eye color: Red
Skin: Ivory
Tattoos: Symbol of Courage wrapped in flames and star dust swirls as a commemoration of her success in shoalin training (3rd Black belt)
Scars: Three or four on her back from her past along with a fig cigarette burns on her thighs.
Piercings: Three on each ear:
Left: Blue gem stud and Gold stud on lobe, Silver flower with diamond center on cartilage.
Right: Green and Red stone studs and a Fairy made of ivory, pearl, and Mystic Fire on cartilage.
A tiny nose piercing of a rose with red stone center. (Barley noticeable)
Preferred style of clothing:
Personality (and other stuff)
Personality: Quiet, Faithful, (kind when she can be) Tedious and Short tempered when insulted
Likes: Music, Books, Training, Cooking
Dislikes: Spiders, Whiney men, Weak Willed people, Bullies, and Rapeist.
Talents/skills:
+Assassination
+Singing
+Playing Music
+Quick Learner
+Instruments Known:
•Piano
•Violin
•Guitar
•Flute
•Clarinet
•Cello
Weapon of choice (if any): Fists, Dual Blade's, Gravity Manipulation
Relationships
Parents: Mother Died in child birth, Father (jail)
Siblings: 2 brother, 3 Sisters
Children: Alania Snow Soden (Allie)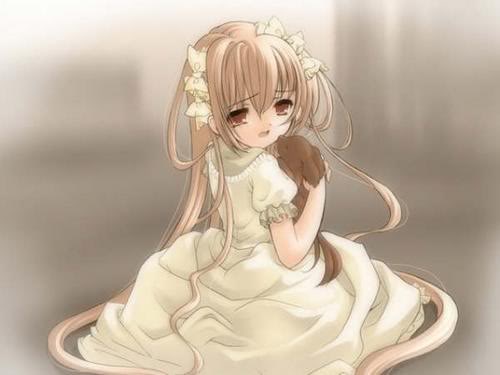 Partner: Husband: Micheal Syoden (deceased)
Enemies: The League of Assassins.
Notable Friends: Hopefully Batman
Pets: A small Black kitten she found in the snow when she left the Assassins.
Life story
Marianna's story continues the day her power developed. It was nothing intense at first, just a simple feat of moving a ball from one end of a table to another. Over time it developed from moving to lifting the ball. Mariana was a metahuman. Like so many other individuals in the world, Mariana had power. Her family and friends were wary of her power, but thought nothing of it; it was a natural occurrence. Deep down they hoped that if she didn't use it, it would disappear, almost like a fluke. Word of the girl's talent to control gravity eventually spread, though. Many didn't see the significance of it, except one important individual: Ra's Al Ghul. The leader of the League of Assassins saw potential in the girl to change the world once her powers were in full. When she was only six, he had her parents assassinated but made it seem like it was a result of her own abilities, and in this tragedy, Ra's took advantage. He came to the girl as a mentor figure and told her that it wasn't her fault, that he could protect her and train her from those that wouldn't understand her gifts. At that time, the neighbors and town were feeling uneasy at the supposed "dangerous meta that murdered her family", they were preparing to deal with it. The young girl, not knowing right from wrong took the word and help from the man with the "gentle eyes." She ran with him to his citadel in China. It was there she began her training.
Ten years later, Mariana completes her training and begins taking missions from Ra's to rid the world of humanity so that the Earth may flourish. The girl became a wonderful assassin, utilizing her abilities to complete her missions in inventive ways. Her skill and methods became so famous that she became known as the Gravitational Gajin. Granted it wasn't the most ingenious name, but it was a display of how famous she was becoming. It all went on like this for five years until she did the one thing that the League prohibited: falling in love. Mariana fell in love with one of her targets she was sent to kill in Paris. She tailed him for weeks, watching his every move. It was days in where her intel gathering became something more, it turned into an interest and then a crush. At the weeks end, Mariana had confronted the man and began seeing him in secret. To protect the man that she had fallen in love with, she betrayed the League and lied about his death.
The two continued their romance in secret with Mariana escaping to Paris every time she went out on assignment. Three years into their relationship and Mariana had fallen even deeper into love, going so far as to...doing the deed and marrying the man in secret. She continued her double life until the day her pregnancy lump showed. Ra's, feeling betrayed, ordered Mariana to kill her husband and give up the child to him when she was born. Mariana defied him and made a break for it, unfortunately by the time she arrived in Paris, the League had already murdered her love. Using her power, she escaped the League once more and vanished into the mob of people within Europe.
Two years went by and Mariana lived her life in peace and quiet within the serene hills of Scotland. Every day she felt the pain of losing her love, but she felt blessed to still have her daughter, Allie. This love for her daughter was the only feeling that kept her living, unfortunately it wouldn't last. When her daughter turned two, Ra's showed up on her doorstep with over fifty League members, asking for the child. He gave her an ultimatum: give up the child willingly and she would live, his intention was to raise her daughter and make her a more deadly weapon than her mother. Where he went wrong with Mariana, he would make up for it with her child. Mariana refused and began to fight for their escape. By the end, the League had taken her daughter and she was badly beaten, on the verge of death. She would have died in the fields of Scotland that day if it weren't for the thought of her child's soul being saved. After months of recuperation, she was ready to save her daughter. She knew the best way to make sure her daughter would survive her ordeal was to recruit the help of Ra's deadliest enemy: The Batman. She would travel to Gotham and gain his trust so that he would help her reclaim her young daughter. The task would be hard, trying to get Batman to trust a former member of the League, but it was her best shot....